Tags©
Newsletter Subscription

Registered Members Only
Login
Random Images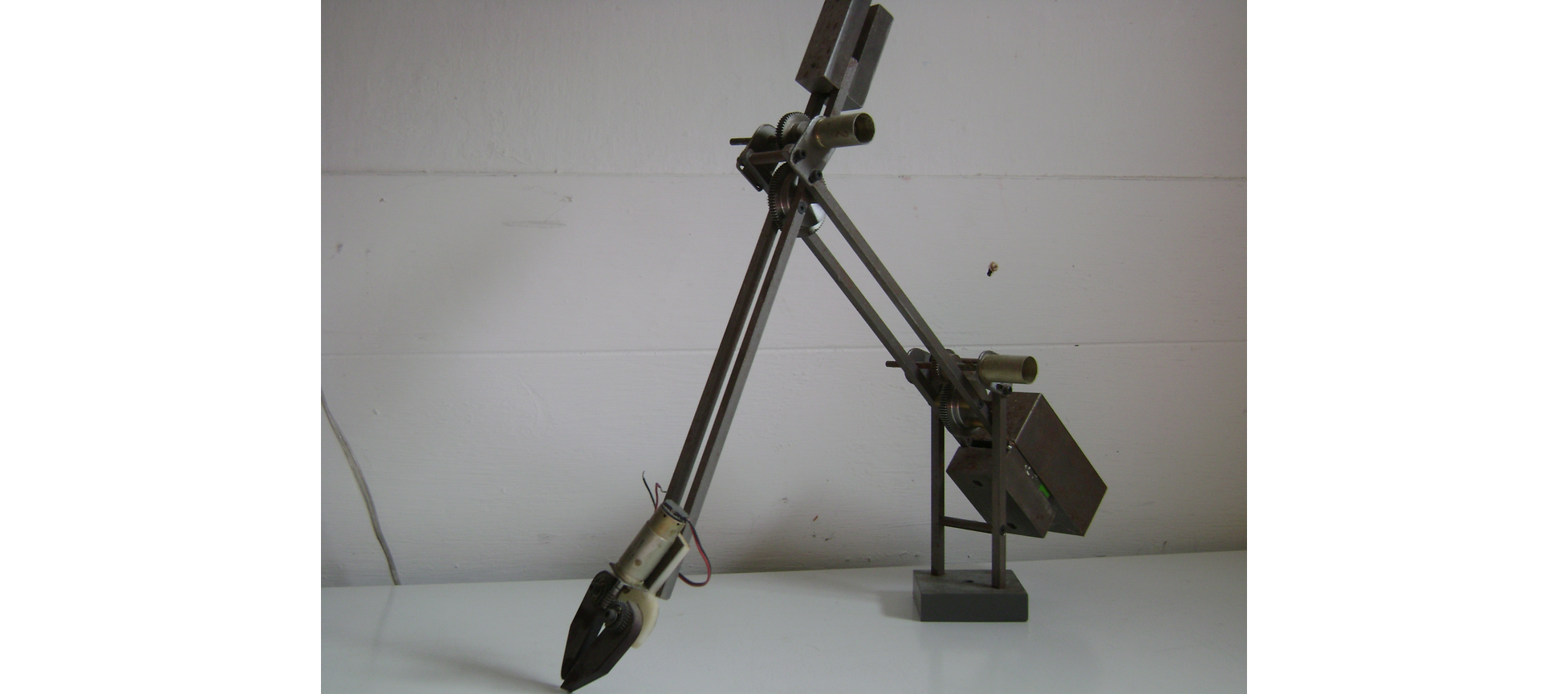 Latest Articles
Shoutbox
You must login to post a message.
No messages have been posted.
IP
JoKaBot - Home build from scratch
JoKaBot

Objectives – The actual goal – the application – What to do
Role models - description
Various models is intended to be developed!
Its here you will find a description on the various application which a robot will make action according.
But first we divide the various aspects in various groups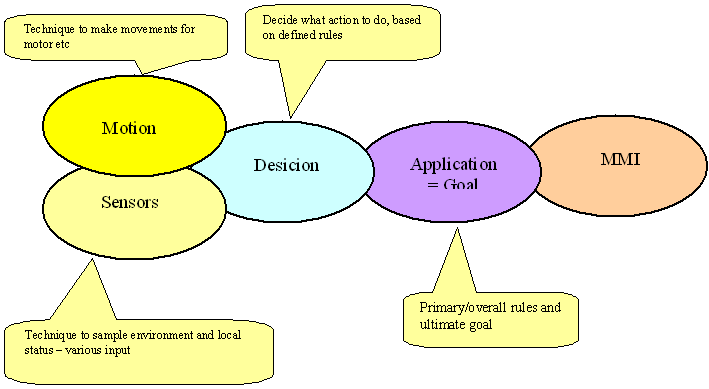 Figure 1 Primary areas of interests
Example on various applications
Single robot
Search for a specified object
Find Fire

Find Heat

Find Sun

Track a line

Find charger

Find IR beacon


Go-To-a-Point (movement based on algorithms, on time or ?)
Distance, Positions

calculation (via Sonar)

Find 'LPS' Local Position System


Behaviour relations
Simple manoeuvring (forward, backward, right, left etc etc)

Remote controlled

Docking for charging


Multiple robot
Track-and-destroy
War J

Follow-Me

Football team
Application : Simple Basic Operations (forward, reverse, turn etc)
This is basic manoeuvre activity, which is fundamental for the future robot's behaviours, Actually this is vital for all robot applications.
Basically this involves operation of the motor circuitry, the switches attached to the front (and rear if any) … but also more hidden functionality like watchdog, memory, CPU, and much more like this …
Application : "Walking the line"
This robot will track a pre-defined line (located on the floor), and walk along this line till it ends
A line is defined as a black line of a specified width, on a white background!
Detection is done by a single sensor which will pendle from side to side – on the black line.
Remember that the line could be white as well as black ! Select the most used !
Application : Find Home n' Charge
Where is the charger located … find it … and charge our batteries
Application : "Bounce" robot
The "Bounce" robot is a robot that bounces every time obstacles are meet!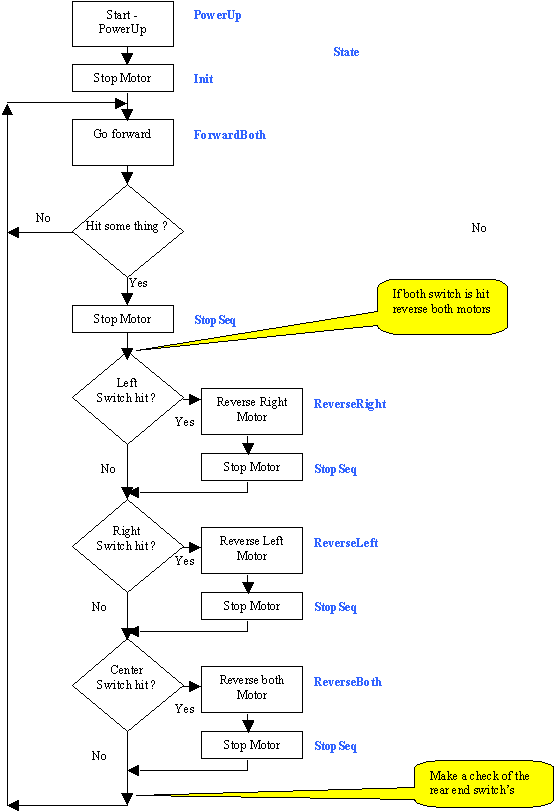 Application : Track n' Attack
This will track any other robot, and attack em'.
Tracking could be using IR, movement detection or recognition by distance detection,
Application : Find fire
This application will track fire (candle) and fight this using a propeller motor.
Application : Find way through a maze
a MAZE is a matrix, with walls, and holes to walk through ….
This maze-walker is constructed in the following way:
If there is not a wall on the right hand side, then turn the robot to the right
If there is not a wall to the front of the robot, then move the robot one cell forward
If step 1 and 2 isn't executed, then turn the robot to the left.
Continue steps 1->3 until robot is at the finishing line/position, then stop
Mechanics
Mechanics is a
q simple flat square (circular?) base plate with 2 step motors, and a passive front wheel. It might become handy to have two plate (good for indoor usage, no obstacles)
q or a platform built on a tank with belts (both indoor and out door, small to medium obstacles).
Battery is a 6, 9.6 or 12 voltage lead accumulator used eg. in MC's and like. Intentions are also on using std NiCD used by various RC cars and like.
Experienced robot developers say's U need minimum 24 Volt for out door terrain usage!
Physical look – the basis platform
The platform it self may have many various shapes : elipse, square, circular, rectangular depending on the application it should support.
Aspects to consider when designing …
Motor aspects
Many aspects is connected to the fact that relates to the motors chosen :
1. How quick should it run ?
1.1. Walking
1.2. Slow
1.3. Medium
1.4. Fast


2. Which technology ?
2.1. Wheel
2.2. Belt,
2.3. Legs
2.4. Boat or plane


3. steering method
3.1. like a car
3.2. like a tank
3.3. plane
3.4. like a ?


4. Analoge or digital
4.1. proportional or
4.2. 'full-swing'


5. How precise?
5.1. exact
5.2. just about
5.3. or none requirements


6. Feedback requirements
6.1. tacho
6.2. distance (step's)
6.3. other
6.4.


7. How power full ?
7.1. micro
7.2. small
7.3. medium
7.4. Large
7.5. Huge
7.6.
Battery aspects
Operation Time
Speed
Distance
Power consumption
Motion aspects
Precise
Just roll
Movement (speed vs precision) aspects
Other aspects … eg.: Survival aspects (war fighter, moon explorer, critical mission and so on)
A fast moving, flexible, quick re-action …
The actual robot platform may look like this …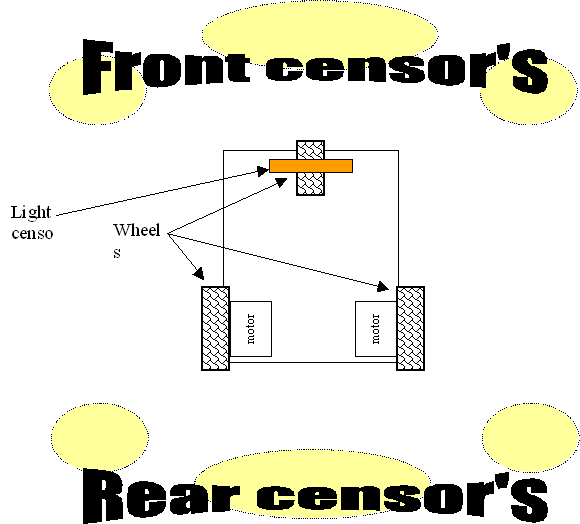 Electronics
Hardware (Electronics)
MCU is an AVR platform. Based on a STK500 kit since this has much Flash (32-64-128 future 256 K PROM) and for the moment enough onboard RAM.
I/O expander is for the moment not required. But could easily be applied!
Motor controlling circuitry is based on a simple though effective known H-bridge controller chip set! This features usage of step motors and standard free-running DC motors.
The robot should be capable to operate at leased for 1 hour without recharging.
For this to succeed we need to high capacity batteries – one for the motor section and one for the control logic!
The following is a description on a small robot project. Where we step-by-step will integrate more and more functionality …
Basic Modules
The Basic platform controlling the robot contains the following components: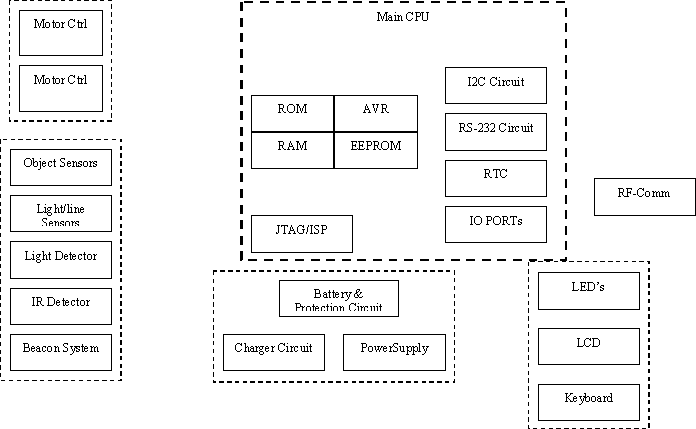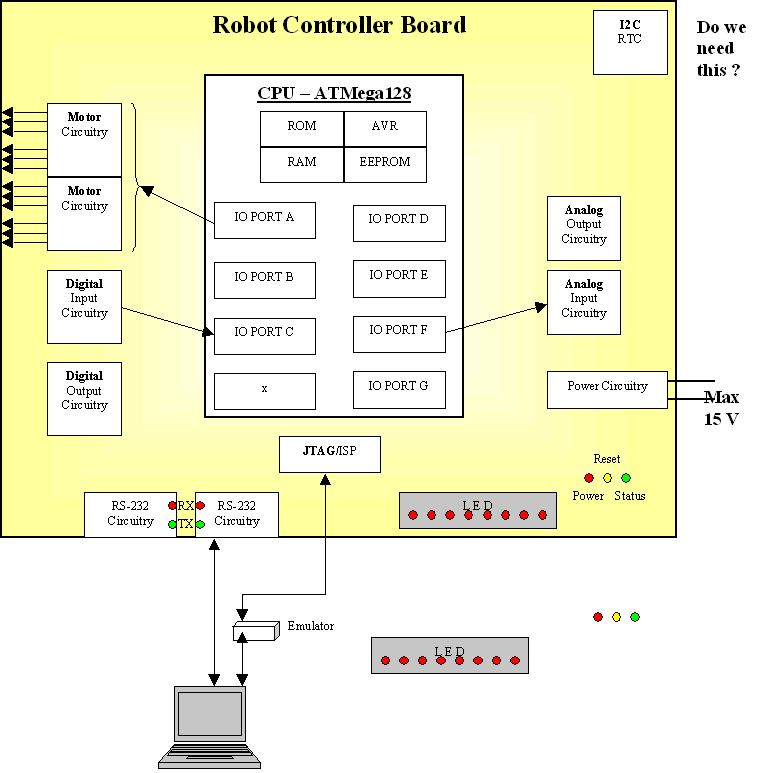 Motor visual control/status LED :

The approach on developing a robotic platform (on SW as well as for HW) is to make utilize HAL (Hardware Adoption Layers) when ever applicable. This is done by using a general platform ... with proper abstractions levels .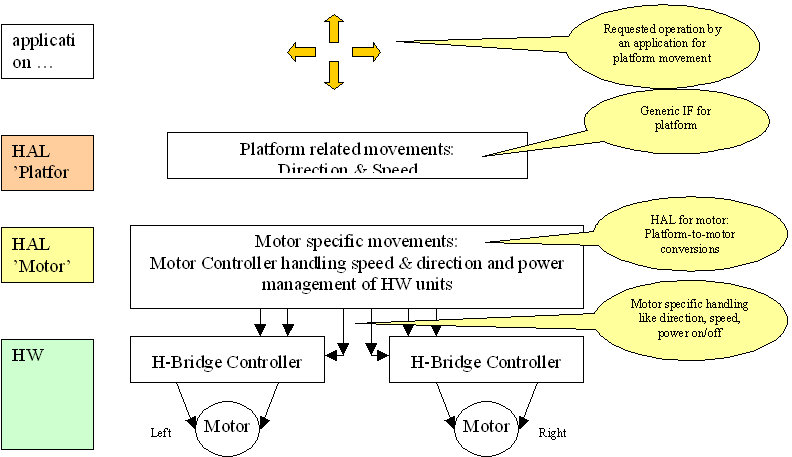 System design
Shortly: This chapter describes the overall system design – from a software perspective view.
We have previous looked at the over all requirements regarding movements, general behaviours (search, track-line, goto-base and so on), … so lets take this to a system design, and split things up in modules and tasks that can be implemented!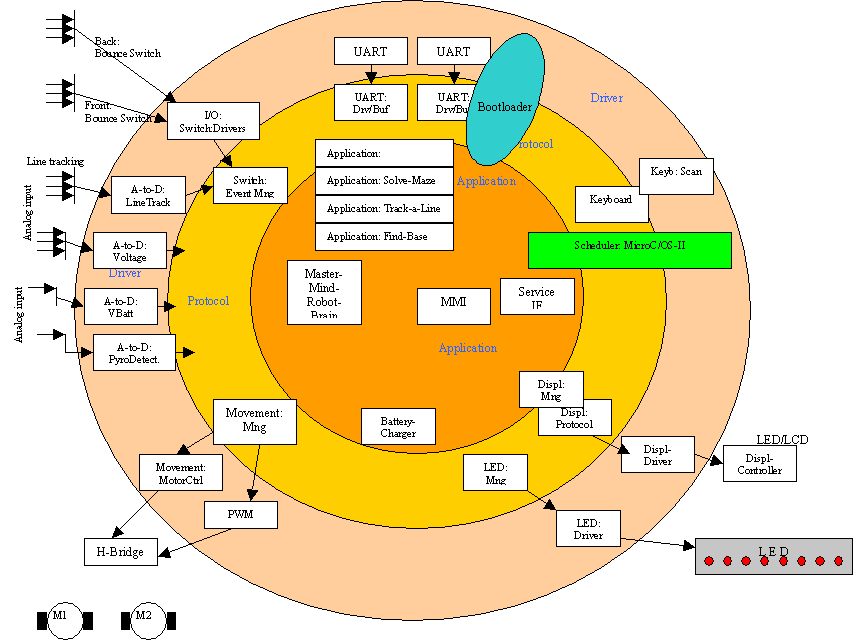 Worldview on the system
YES! More to come ....

Comments
No Comments have been Posted.
Post Comment
Please Login to Post a Comment.
Articles Panel
| | |
| --- | --- |
| Total Articles: 58 :: Total Article Categories: 16 | |