Tags©
Newsletter Subscription

Registered Members Only
Login
Random Images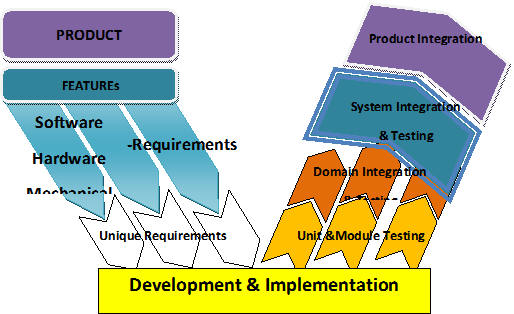 Latest Articles
Shoutbox
You must login to post a message.
No messages have been posted.
IP
MMI - Simple Embedded Menu System
MMI - Simple Embedded Menu System
Very very very!! ... Simple Menu Management System
Another "simple menu manager" – I can hear your thinking - huh?
And you are right! Google'ing this is returning overvelming many hits … but are the simple, scaleable, embedded, independantly, easy to use … ? Read here below and let me know what you think.
I will try to downscale/down-size this when I get closer to a platforms next time. Just to see how small it really can get. Size's does matters – huh ;-) ?
This idea (which turned in to a real project) is a spin-off when working on a generic easy-to-use-and-implement projects where MMI – just a downscaled version is required! ....

Sometimes its quite nice sitting down, and reflect over ...
grrrr this has been done already once ...
why repeat it over again and again ...
why not make a generic reusable ....
… and so I did.
Because the first thing one starts with after having the basic application up and running - is the user interface, the MMI!
And each time this ends up with modifications to the nice application, the 'common' interface and so on ...
And even more frustration is added when all the nice and fancy stuff has to be configured, adjusted and made user-friendly.
This is for all my small devices - for my robot, for my home net transceiver and for my small test-some-thing-box…
So this system could be a SI (service Interface) or actually an attached display (text version only).
I needed easy configuration (less programming apart from the basic engine), multiple language support and especially an easy way in the menu's to handle simple 2-5 key input. The available keys was up, down, accept and cancel.
As they say: a Plug-n'-play solution
So it needed to be easy to combine with existing code (as new development too)... so a smooth and easy interface is required
Essential to the basic generic design & success are:
What

meaning or ... ?

Small sum of basic keys

Up, Down, OK, Cancel
But also: Help, Left and Right

Easy expandable to a full keyboard

Easy index definitions

"1.3.2.1"

easy to move the menu around, with out changing the code else where

Easy menu text, as well a menu description

Toplevel text [Audio Settings]

Next level [Volume]

two names for the menu - one for the upper level and one when in the actual menu

Easy reference to eg help text

Application should not handle the key press

event based (keypress) to a defined function

Easy to design and implement. eg. volume menu - it's simple a call to volume_up()

Cross Application awareness - NOPE

Each Applications should not have awareness of other applications

Applications

Language support -
easy selectable/changeable

[CurrentLanguage]

so easy to select/change language

Execution- & navigation
functionality

Either the menu entry is a navigator, or its a executer.
Navigator means move to next level.
Executer means run the attached Application.

Accepted key on per menu bases

per-menu settings

Sound, key beep, display & keyboard timeout, wrap-around, and so on

Status updates on timeout bases

Update of defined variables in display

Easy integration

It should be very easy to integrate this manager with any new as well as existing code ...

requirements
(basic stuff - as low as possible)

RTOS, functions interfaces, MMU and other stuff like that.

Right now OS is required! But it could easily be converted to a call-based scenarios
Specifications
<empty for now>
Design
<Series of picture - the text need more preparation :-)>
The required data set-up and ?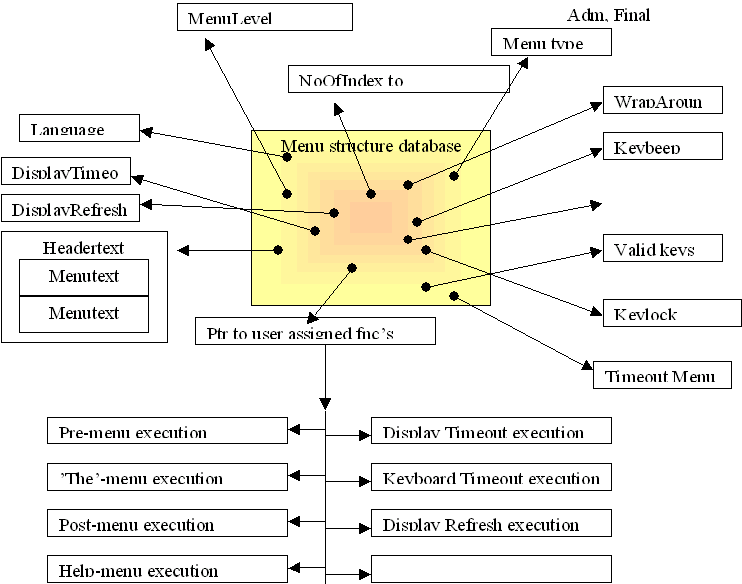 Booting and forward ...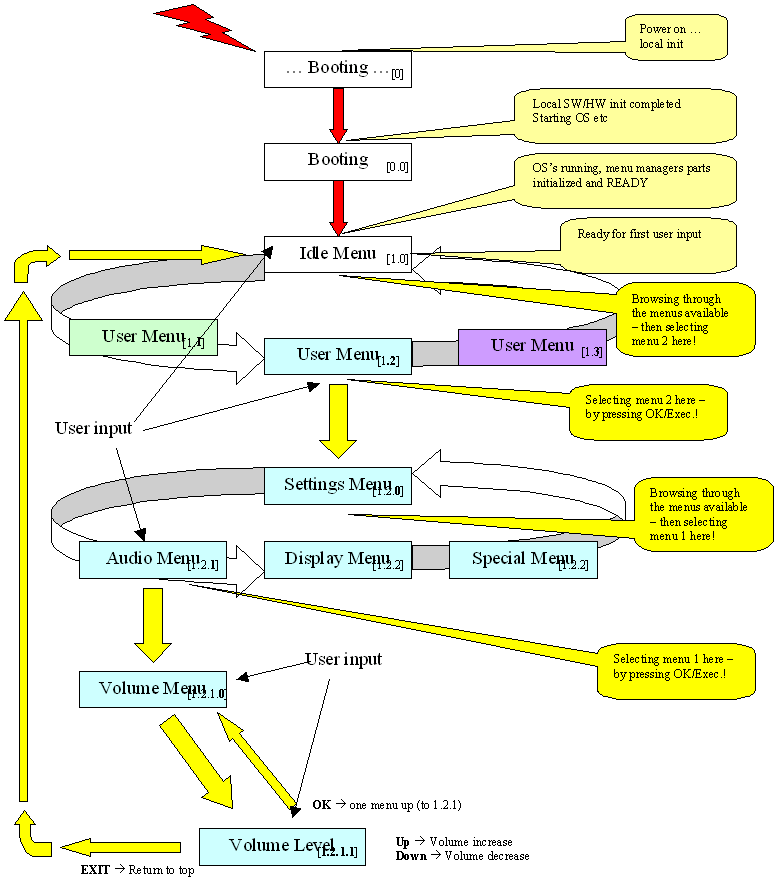 Implementation
<empty>
Download
<empty - comming soon>
OTHER
PROS & CONS
Comments
No Comments have been Posted.
Post Comment
Please Login to Post a Comment.
Articles Panel
| | |
| --- | --- |
| Total Articles: 58 :: Total Article Categories: 16 | |