Tags©
Newsletter Subscription

Registered Members Only
Login
Random Images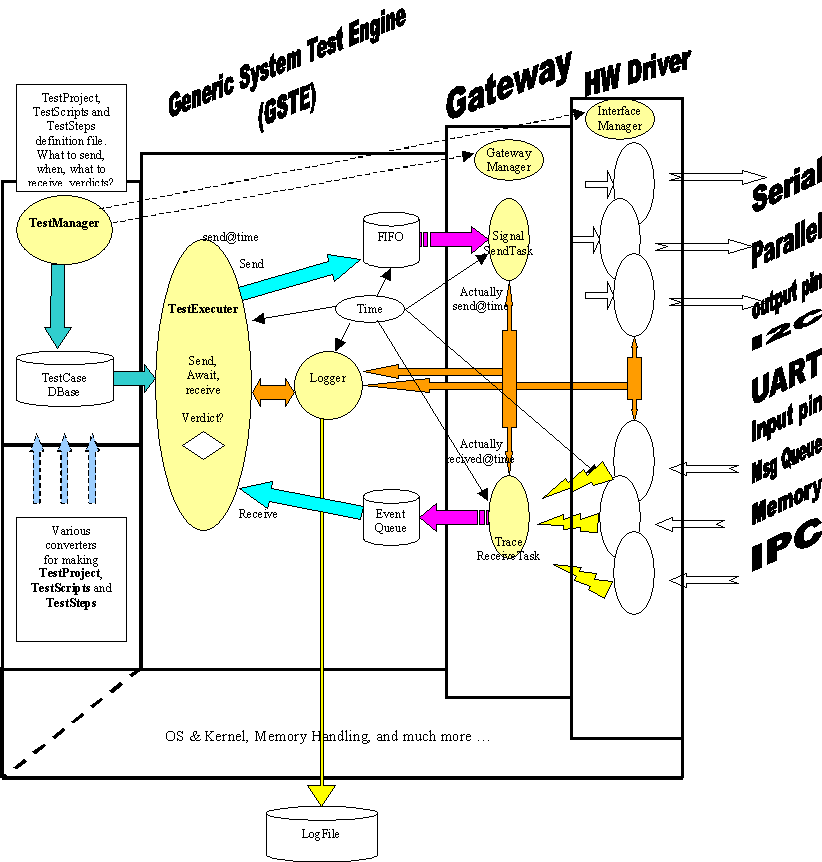 Latest Articles
Shoutbox
You must login to post a message.
No messages have been posted.
IP
PCO - Point-of-Control-and-Observation
PCO – Point of Control and Observation
Introduction: The primary idea was to develop code on one platform and then make simulations, test etc off-target. When I started working at Ericsson (DECT dept. Aalborg) they actually was in the middle of implemented these features on a full DECT GAP protocol stack. They were way ahead my thinking and had more hole-through than I had at the time :-)
Later - I've been working on the tools sections and have experienced more and more that the requirements for a General Test System was a MUST!
The DECT protocol stack could be implemented easily on a PCMCIA card, a handset as well as on a repeater or exchange ... the exact same protocol and code ... That was nice :-)
We were able to run various part of the code on a Unix platform and other parts on a target. We were able to have fix part (FP) located in Sweden, and the portable part (PP) here in Aalborg ... and still having the DECT operational ...
The big thing is using PCO's for interfacing between the test system and the target. for intercepting and injecting signalling ...
PCO – Point of Control and Observation.
This is actually the "thing" doing all the magic (on the embedded or tested platform)!
Simple description:
With this functionality implemented on the SSUT (Sub-System-Under-Test), one may intercept, copy or inject activity.
It simply intercepts or acts on a given activity like memory allocation, process schedulation, port I/O or timer management … and so on … This activity is sampled and stored/send to the logging-process (for dispatching to the test-bed platform (eg. a PC).
This is a simple "control-point" – not more not less (for starters that is J).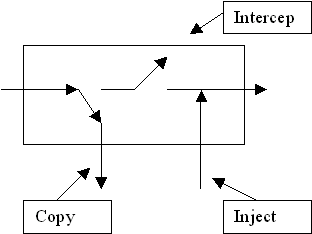 Point of Control and Observation.
Advanced description:
Now for a more advanced and more technical description …
This PCO – is activated (inserted) on all the points on which data sampling/logging is needed.
The PCO could be inserted anywhere on the system (of cause abstraction with some function-call could be needed), where activity wants to be logged.
It is not used for tracking a loop-counters activity (changes) or a local variable changes during the process execution. It is mostly used for tracking event-related activity, like timer, process, signalling etc etc.
But is can be used for logging loop-counters and like …
What's needed:
For each process in the system, a process variable is used to store what activity we need logged.
A byte could hold activities for eg. the xx_timer() activities we wants to log, or it could be the sendsignal() activities. This byte is defined by the system, and checked or changed according the activity the tester want's.
With the simple code implemented, we have the opportunity to :
Intercept an activity = block the transmission of a signal from one process to another process.
Copy an activity = make a copy of the signal/activity to the logging process.
Inject an activity = gives the opportunity of inject a signal to a specified process.
Realized on a target -->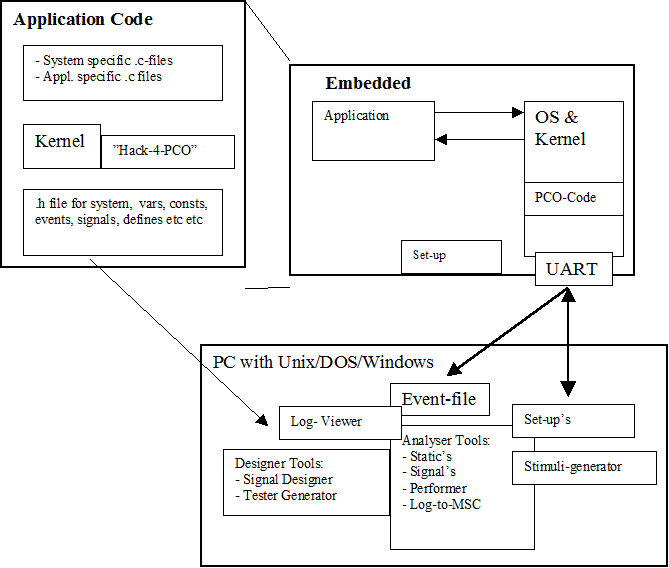 As seen from the above here it opens up for a lot of tools for
Recording, playback of stimuli
Tool: designing communications
Performance analyzing
Analyses of logs
A Log viewer
A realtime log viewer
Generating signaling sequence charts (MSC)
Analyzing of data and sequences - not only the actual signals
The above tool suite has been realize on several system on which documentation for compliance (DECT/BT ..) was needed.
Comments
No Comments have been Posted.
Post Comment
Please Login to Post a Comment.
Articles Panel
| | |
| --- | --- |
| Total Articles: 58 :: Total Article Categories: 16 | |